Who doesn't remember the 1971 movie classic Le Mans, about the 24h race, starring Steve McQueen and his Porsche 917. The nerve-racking final laps, with McQueen pushing his Porsche to the limit, raise a question about the real star of the movie. Was it McQueen, or the Porsche 917 he drives?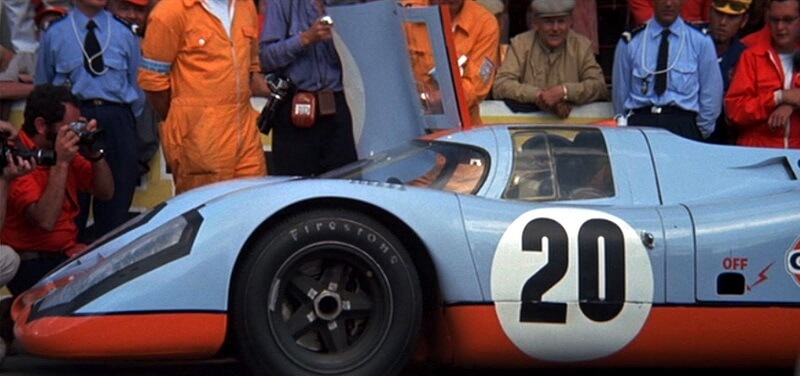 The Porsche 917
It's no coincidence the Le Mans movie was about the Porsche 917. In 1970 & 1971 Porsche won the Le Mans race with this car. The 917built around a very light chassis of only 42kg, and the position of the driver was so far forward that it felt as if you were seated beyond of the front wheel axle.
Earlier versions were very unstable, due to a lack of downforce, which didn't suit racing at all. In 1970 Porsche therefor extended the tail of the bodywork. This made the car so stable that the drivers could take their hands off the wheel at a speed of over 390 km/h.
A race of records
The 1971 race of Le Mans is a legendary one. Drivers Gijs van Lennep and Helmut Marco drive the immense amount of 5.335,3 kilometers, at an average speed of 222,3 km/h. A record that stood for almost 30 years, and was only bettered by Audi in 2010.
Where is it now?
The 917 that was used in the movie, belonged to former Porsche driver Jo Siffert. The car was returned to Siffert, who was aboslutely in love with it, after the movie was shot. Siffert kept it until he died, and it was even the first car in his funeral procession.
After Siffert died, the car disappeared into oblivion, from which it surfaced in the early 2000's as one of the best barn finds in car history. It has been restored, and sold last year for a staggering 14 million dollars.
Curious to see how an original 1971 Porsche 917 looks these days? See the video below.
Real Art on wheels celebrates 70 years of porsche
Porsche, one of the most iconic car brands, celebrates its 70th birthday this year. From November 16th until December 28th we organize all kinds of special Porsche activities. Visit our showroom if you're interested in celebrating this moment in car history with us.