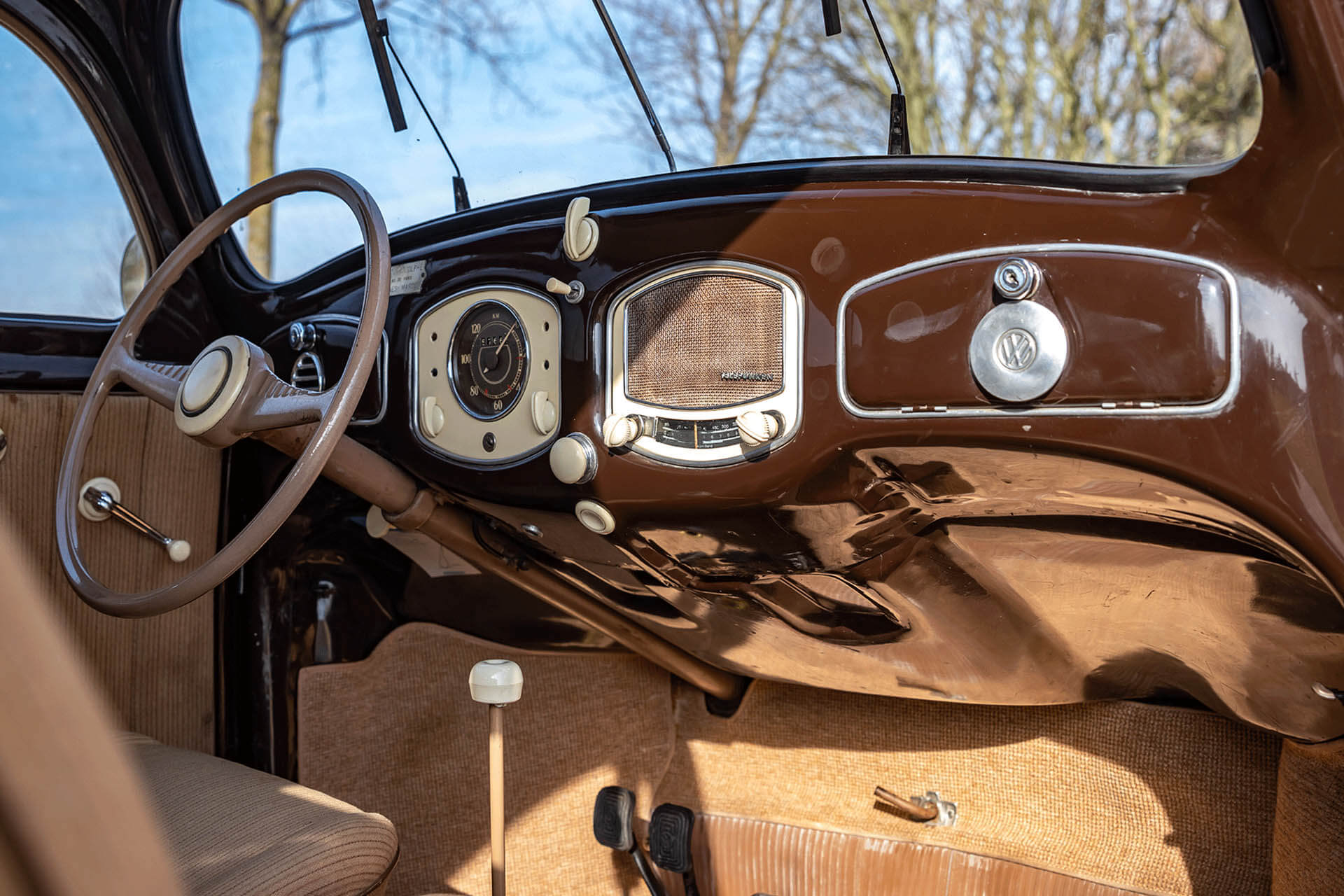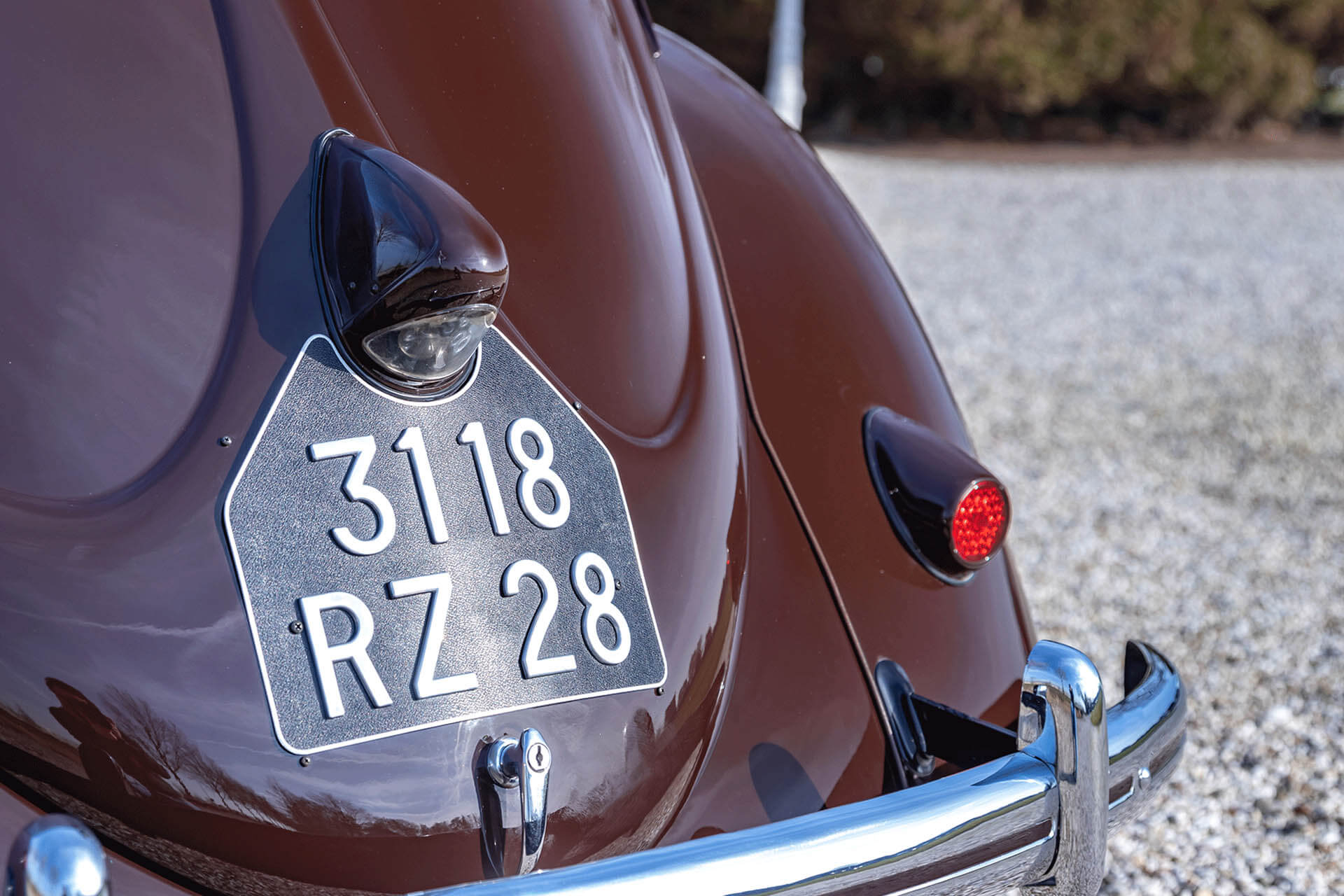 Development of the Volkswagen Beetle
The development of the Volkswagen Beetle started as the Type 12, "Auto für Jedermand" (the car for everybody) for Zündapp in 1931, by Ferdinand Porsche. Porsche preferred a flat-four engine and a sing axle rear suspension, while Zündapp insisted on a water-cooled five-cylinder radial engine. In 1932 three prototypes were running; all were lost during World War II, the last in a bombing raid in Stuttgart in 1945. The Zündapp prototypes were followed by the Porsche Type 32, designed in 1933 for NSU Motorenwerke AG, another motorcycle company. The Type 32 was similar in design to the Type 12, but it had a flat-four engine. NSU discontinued car manufacturing, and the Type 32 was abandoned at the prototype stage.
Initially designated Type 60 by Porsche, the design team included Erwin Komenda and Karl Rabe. In October 1935, the first two Type-60 prototypes, known as cars V1, a sedan, and V2 , a convertible (V for Versuchswagen, or "test car"), were ready. In 1936 testing began of three further V3 prototypes, built in Porsche's Stuttgart shop. A batch of thirty W30 development models, produced for Porsche by Daimler-Benz, underwent 1,800,000 mi (2,900,000 km) of further testing in 1937. All cars had the distinctive round shape and the air-cooled, rear-mounted engine. Included in this batch was a rollback soft top called the Cabrio Limousine. A further batch of 44 VW38 pre-production cars produced in 1938 introduced split rear windows; both the split window and the dash were retained on production Type 1s until 1953. The VW38 cars were followed by another batch of 50 VW39 cars, completed in July 1939.
The car was designed to be as simple as possible mechanically. The air-cooled 25 hp (19 kW) 995 cc (60.7 cu in) motor's built-in oil cooler, and the flat-four engine configuration's superior performance was also effective for the German Afrika Korps in Africa's desert heat. The suspension design used compact torsion bars instead of coil or leaf springs. The Beetle is nearly airtight and will briefly float.
Model changes
Between 1950 and 1959 a myriad of changes were made throughout the vehicle beginning with the availability of hydraulic brakes and a folding fabric sunroof in 1950. The rear window of the VW Beetle evolved from a divided or "split" oval, to a singular oval. The change occurred between October 1952 and March 1953. Beetles built during this time were known as a "Zwitter", or "hybrid", as they used the split-window bodyshell with oval-model chrome trim, vent windows and dashboard.
1953 models received a redesigned instrument panel. The one-piece "Pope's Nose" combination license plate/brake light was replaced by a smaller flat-bottomed license plate light. The brake light function was transferred to new heart-shaped lamps located in the top of the taillight housings.
In 1954, Volkswagen added 2 mm (0.079 in) to the cylinder bore, increasing the displacement from 1,131 (1100) cc to 1,192 (1200) cc. This coincided with upgrades to various key components including a redesign of the crankshaft. This increased power from 30 hp (22 kW; 30 PS) to 36 hp (27 kW; 36 PS) and improved the engine's free revving abilities without compromising torque at lower engine speeds. At the same time, compression ratios were progressively raised as, little by little, the octane ratings of available fuel was raised in major markets during the 1950s and 1960s.
In 1955, the separate brake lights were discontinued and were combined into a new larger taillight housing. The traditional VW semaphore turn signals were replaced by conventional flashing directional indicator lamps for North America. For 1956, the Beetle received what would become one of its more distinctive features, a set of twin chrome tailpipes. Models for North America gained taller bumper guards and tubular overrider bars. For 1958, the Beetle received a revised instrument panel, and a larger rectangular rear window replaced the previous oval design.
Our Volkswagen Beetle
On Wednesday February 13,1952, this Volkswagen Beetle was delivered to its dealership in Casablanca. One month later, the car was bought by a Mr Rodolphe Wurtz, a resident of the UNESCO world heritage site Meknes. A plate attached to the dashboard indicates Mr Wurtz was living at the Boulevard de Paris. Little is known over this Mr Wurtz, but buying a brand-new car in Meknes meant something. When he moved to France a few years later, he imported the car into France.
This Volkswagen Beetle was featured in the French magazine "Retroviseur" in January 1990. A copy of this magazine is available with the car. With the car we have its original manual and some service records. An original Telefunken radio is fitted to the car and so is an original toolkit. The car has the original 1100cc engine. The last owner bought this car 30 years ago and she was part of an interesting car collection, used sparely for some local events. The car is in pristine condition and ready to be enjoyed. Currently the car comes with French registration papers, but we can change this easily to a registration for The Netherlands or Germany.
This Volkswagen Beetle is for sale, please don't hesitate to contact us for more information.

Sold, thank you.