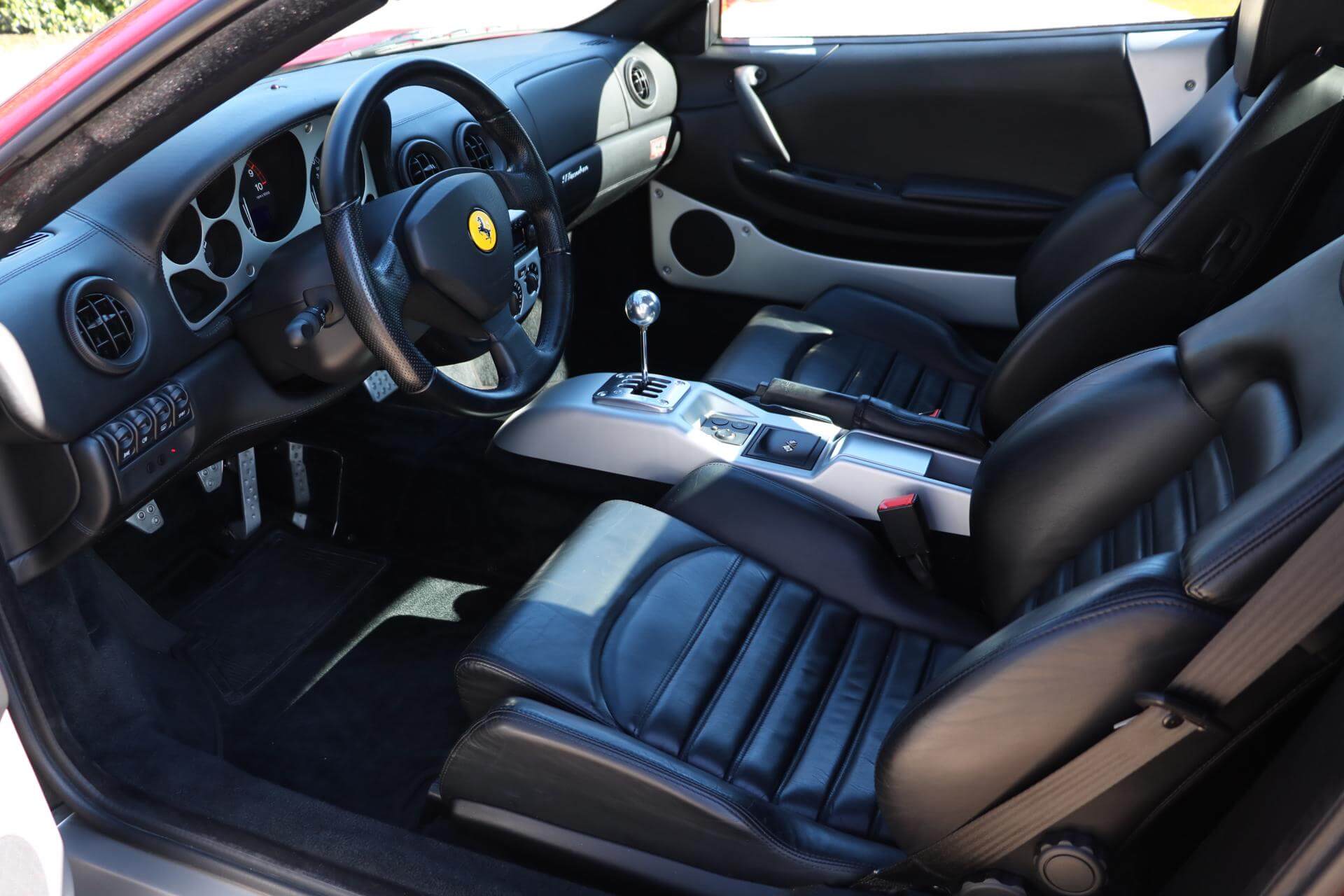 "Schumacher's weekend wheels"
The first model of the Ferrari 360 was the Modena, named after the town of Modena: the birthplace of Enzo Ferrari. Its six-speed gearbox was available as a manual or an F1 electrohydraulic manual. The Ferrari 360 Modena went into production in 1999 and remained in production until 2005 when it was replaced by the Ferrari F430. The Modena was followed two years later by the Ferrari 360 Spider, Ferrari's 20th road-going convertible which at launch overtook sales of the Modena. For the 360 model, a new all aluminum space-frame chassis was introduced. It was 40% stiffer than the F355 which had utilized steel. The design was 28% lighter despite a 10% increase in overall dimensions. Along with a lightweight frame the new Pininfarina body styling deviated from traditions of the previous decade's sharp angles and flip-up headlights. The new V8 engine, which had a 3.6 litre capacity, generated a 400 horsepower. According to Ferrari the weight was reduced by 60 kg and the 0-100 KM/h accelartion time improved from 4,7 to 4,5 seconds.
The Ferrari 360 Modena Press Car was stated "ludicrously quick and sounded more like Schumacher's weekend wheels than a street car".
Our Ferrari 360 Modena
This Ferrari 360 Modena was originally delivered through Dutch Ferrari dealer Munsterhuis. A copy of the original sales contract and invoice are in the history file present. Full service history is known and the booklet has service stamps from Munsterhuis, Forza Service and Kroymans. The latter sold the car a few years ago to a very good friend of us. When he bought the car, I shared a personal memory that I had on a similar Modena. I kindly asked our friend to offer his car if he'd ever consider to sell it. Over the years I kindly remembered him that I'd be a potential buyer for his 360 Modena, but as a true passionated car collector – selling was not an issue. While in his possession the car was serviced regularly at Ferrari Kroymans in Hilversum. I acquired the car three years ago and sold it to another collector. All sticky interior switches were renovated at a cost of almost 3,000 EUR.
This 360 Modena looks beautiful in a very classic combination of "Rosso Corsa" and a black leather interior. The car furthermore benefits from a manual six-speed manual gearbox and a Tubi-Style exhaust system which gives the car the only right sound in our opinion. The car has driven a mere 47,000 KMs in total. The car is 100% accident free and comes with all books, service stamps and invoices.
This Ferrari 360 Modena is for sale, please don't hesitate to contact us for further details.