A 1970 – 1972 Porsche 914-6 is hard to find these days. With a production of around 3.300 cars, the car wasn't a great success at the time, and from a marketing perspective the car was one of the lesser successful Porsches. It also ended the marriage Porsche and Volkswagen had. But it definitely wasn't all doom and gloom for the 914-6…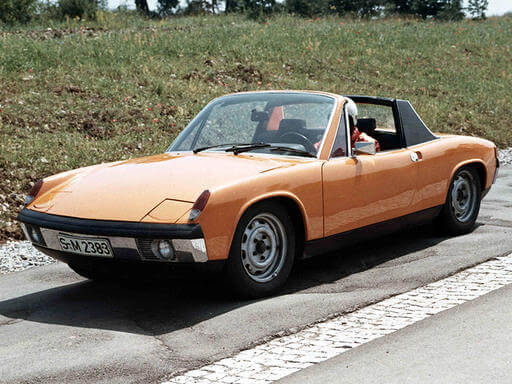 Porsche and Volkswagen have always had a close bond, going back to the construction of the very first Porsches, which were built with a lot of parts of the Volkswagen Beetle. 
The two companies got in bed together again for what would become the Porsche 914 in 1969. The communal goal was to create a new, entry-level, sports car, but the cracks in this marriage were quickly visible. 
Volkswagen wanted a car with a flat-fout (914-4), but Porsche insisted on a flat-six (914-6).
On top of that, the relation grew even more tense due to the untimely dead of Volkswagen CEO Heinrich Nordhoff. The new CEO, Kurt Lotz, wanted to claim the 914 as a Volkswagen, which Porsche didn't want. A disaster for Porsche, because without the Volkswagen collaboration, the price of the production went up. This meant that the 914-6 became almost as expensive as the 911-T, and therefor unprofitable before it was even produced. 
The white and the black swan
Due to the higher production costs, only 3.351 models of the Porsche 914-6 would be sold between 1970 – 1972. While the 914-6 was underperforming, the 914-4 grew out to be the best selling Porsche with over 118.000 models sold, surpassing the 911.  
However, in terms of sales the 914-6 might not've been very impressive, on the race track it most certainly was! The 914-6GT competed successfully in the most important car races, such as the Monte Carlo Rally and the Daytona International Speedway. 
The test of time
Despite the completely different path the two versions of the 914 took, both are legendary Porsche models. It's quite difficult to find a 914-6 these days, and the few owners that do own one, are obviously cherishing it, as becomes clear in this video by Petrolicious.
Even though this Volkswagen and Porsche marriage didn't work out, two beautiful kids came from it. In our showroom we have a 1974 Porsche 914-4 for sale. Feel free to enquire about this car.
Real art on wheel celebrates 70 years of porsche 
Porsche celebrates its 70th anniversary this year, and at Real Art On Wheels we celebrate with them from November 16th until December 28th. Are you interested in more stories like these, rare Porsches for sale and special events? Keep an eye out online or visit us in our showroom. 
Image sources:
Header image: Catawiki
Other images: Porsche